In the heart of South Tyrol: Sarntal
Sarntal is situated in the heart of South Tyrol, North of Bolzano-Bozen. It is South Tyrol's vastest communal area with about 700 inhabitants. You can reach Sarntal from Bozen across the canyon with its numerous tunnels, or via Sterzing over the "Penser Joch" (saddle of Pens), which is generally closed in the winter.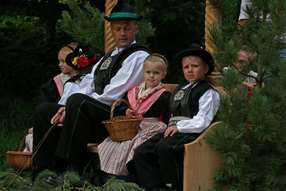 Sarntal is a very traditional area. Here you can witness numerous ancient customs and events, where locals dress up in their traditional costume. On Thursday evenings before Christmas, the traditional "Klöckelnächte"are organised. This custom was initiated to chase away evil spirits. On Advent weekends you'll find the "Sarner Alpenadvent"(the Alpine Advent of Sarntal) with local produce and specialties. In the summer farmers markets are held every Saturday; and on the first weekend of September locals celebrate the festival "Sarner Kirchtag". 
Still today a variety of handicrafts are practised in the valley, such as the ancient art of woodcarving and the renowned "Federkielstickerei"(pinfeather embroidery). Also clothing and health products – made of loden and mountain pine - can be found here. Particularly popular are the legendary slippers "Sarner Toppar", keeping feet warm for many generations.