Summer
In the summer guests in Sarntal experience the magnificent valley in bloom: the green fields and flourishing meadows set in South Tyrol's fascinating mountain world are a charm to many.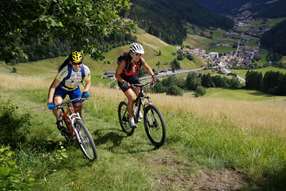 Leisurely walks, rambles across the hills, adventurous hiking trails or revealing round walks help grasp the stunning beauty of Sarntal. The walk around the valley, the ancient stone sculptures "Stoanerne Mandlen" and the local mountain "Sarner Scharte" are only 3 out of many popular destinations in the area. Whether you prefer easy walks or ambitious trails, there is surely one route that is just right for you. Besides, there are many other sporting possibilities in the pristine nature of Sarntal: Nordic Walking, mountain biking, horseback riding and much more.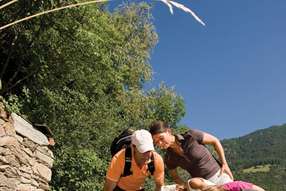 Families can experience the myth-trail "Sagenweg", where one can unveil the 9 myths told in Sarntal via a fun quiz. Particularly popular is the new "Urlesteig", a path which holds true adventures - for water rats, cat burglars and those thirsty for knowledge alike. Don't miss this brand-new trail for the entire family. Find out more about walks in Sarntal on the website: www.reinswald.com.
In summer Sarntal is especially popular among motor bikers. From Sterzing a winding road leads to Sarntal over the "Penserjoch", the saddle of Pens revealing spectacular views over the alpine region. Our guests receive a free motor-bike roadmap and find parking space in the yard.